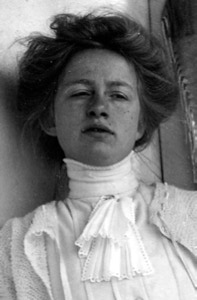 THE EDITH SÖDERGRAN PROJECT  2017-18
Performing art experiment inspired by the poems of Edith Södergran, who died 1923 of tuberculosis 31 years old.
The feministic and self-defining poems of Edith Södergran are outstanding and extremely sensitive  and contradicts the morbid male-dominated stage of  meaningless self-destruction of First World War. The poems are merged with romantic classically music interpreted electrically by THE MESSER QUARTET. The performance involves 1 actor/narrator and 25 of full-size male skeleton bodies.  Wireless animatronic technology are being added in order to move eyes, mouth and breathing.  All stage light is established by sophisticated animated 3D projections by STEEN&HEJLESEN. 
Von Heiduck is looking forward to the premiere of this project with extraordinary marionettes, not seen before in performing stage art. 
Premiere 6. october 2018 in DEN FYNSKE OPERA in Odense.  Next year the performance is touring Denmark and Europe.
VIDEO DOCUMENTATION  of the Edith Södergran development project  2017  supported by The Danish Ministry of Culture.